The construction of the "Northern Cross" , one of the largest transit radiotelecopes all over the world, begun in Summer 1963, involving a 50 persons equipe.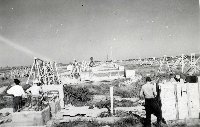 The instrument has been inaugurated in October 1964, standing at the ceremony the Public Instruction Minister, Luigi Gui, and its predecessor,Giuseppe Medici, who first supported the project. Also the rector Felice Battaglia and a wide delegation of researchers and teachers of the Bologna University Phisics Institute were present.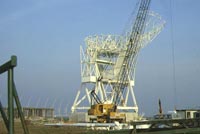 About 500 m from the "Cross", after nearly 20 years from its first observations, a 32 m parabolic antenna has been built.Since then the Medicina Radiotelescopes are of primary importance in the italian and international research outline.